Old Giant Geyser Photos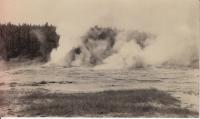 Giant Geyser platform, 1930s?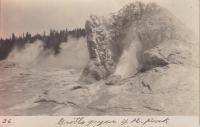 Giant Geyser, mislabeled Grotto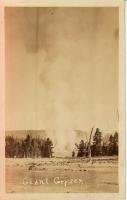 Giant Geyser eruption in 1912
Here are a few old pictures of Giant Geyser. The first is of an eruption in 1912, taken, it appears, from across the river near Beauty and Chromatic Pools. It came from a series of photos taken in and around the old Army post at Old Faithful. Needless to say, the other ones I would have liked to have went for much more than I could afford.
The second is actually a photograph, probably from the 1930s. The third is also probably from the 1930s (does the "36" indicate the year?). It appears that some sort of activity might have just finished with Mastiff and Catfish, or it was just steamy.