Observations for 2019 September 11
Decided I'd had enought of Norris, and needed a break. The weather was supposed to be cold and wet, so I decided if I'm going to get soaked, I'd rather do it where I can easily get inside and warm up and dry out.
Based on the weather forecast and maps, I went out to Grand a bit early to get ahead of any rain. Turns out it didn't rain. Instead I arrived to see West Triplet, Sput D, and Percolator all in vigorous eruption. Sputnik was also steaming heavily, but there wasn't any visible water.
About 8 minutes later, Rift started. West Triplet continued for another twenty minutes, and when it quit, the other active features quit too. So for nearly two more hours, it was Rift sputtering away with nondescript Turban eruptions. The first Turban eruption I saw was probably a Delay Interval, as it started almost twenty minutes after I arrived. But with Rift erupting, it really didn't matter.
That situation persisted for over two hours, with occasional weak, independent activity from Sput D and Percolator. The steam from West Triplet seemed to pick up at the same time. Finally Rift quit, but it took two Turban eruptions before Grand was ready. When Turban started the second time, it took Grand nearly a minute to build up and finally start another One Burst Eruption.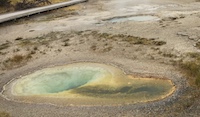 Belgian Pool and Crystal Spring
I hadn't noticed anything when I left the area, but when I got out ahead of the rain for the next One Burst Grand Eruption, I noticed something I haven't seen since the early 1990s. (I'll have to consult my old notebooks to be sure.) Both Belgian Pool and Crystal Spring were down about 3-4cm. This was in response to the Rift eruption earlier. Back in the 1990s, they'd also get murky, especially Belgian. Also back then Belgian could drop as much as 15cm, completely emptying the non-vent lobe. They may have been lower earlier, before I got there.
The Grand eruption itself was pretty ordinary. It was an interval less than six hours, but erupted on a Turban Delay. If the previous Turban interval had been four seconds longer, it would have been back-to-back Delays. The rain had quit, but it was still steamy, and the prevaling wind was toward where I usually sit. Which meant that by moving north, I had a clear view of Turban and Vent. Which was good, because Turban took nearly a minute to start. Then the One Burst Eruption lasted 12m25s, so it was well short of any record.