The day started with having to dismount the bikes near the curve on the bikepath. It was blocked by icy snow drifts one to two feet high with narrow paths over them. Then the trail past the Round Spring group was a minefield of bison deposits.
Arrived at Grotto, and it was obvious that the Pressure Pool was full, as was Grotto Fountain. Almost immediately, Grotto started erupting. Spa was full and overflowing heavily, but I didn't see any convection or boiling in the minute or so I was there.
Went on to check out Fan & Mortar. Nothing exciting, so off to Giant. Looked like last year, with the platform dry and Bijou on strong for about half an hour.
It was time for Daisy, so went over to take a look at the Group. Splendid doesn't seem to have changed, either. The duration of the Daisy eruption, however, was only 2m54s, which is much shorter than I'd like it to be.
Finally it was time to head to Grand. Got over there and after a one Turban eruption interval, got a nice, short One Burst Grand eruption. Joked that I expected 8-3/4 minutes and got 9m06s, and no attempt to refill as far as I could tell.
What had to be the strangest part of the day occurred just after the Grand eruption. As we were leaving, we saw Bulger start. So of course we had to wait to see what would happen in Bulger's Hole. (Nothing). While standing there, I thought I heard someone singing over behind the trees at the Grand benches. I turned to look, and there were two people walking past the tree toward me approaching the Rift bridge. Behind them, on a bike was a man with a guitar slung across his front trying to pass them. He didn't make it, sliding on that slippery plastic walkway, with the guitar and him at least staying on the boardwalk. He took his time getting put back together, then proceeded to slowly ride the bike past us while being informed that he was supposed to park his bike. He got over to Spasmodic, blocked the walkway while flipping over his bike and starting to investigate the front wheel, like it was no longer straight.
Finally, Bulger ended and I went over toward Oval to get some photos of Oval. He started running toward me, asking if I had sunscreen. I told him I wouldn't provide it too him. He went back to the bike repairs. Got my pictures of Oval, and Sawmill, and left the area. From Crested, it appeared he was still working on the bike.
As for Oval, it has heated up. There is now only a band of orange and black around the high water mark. Sawmill is also showing signs of heating up down in the vent.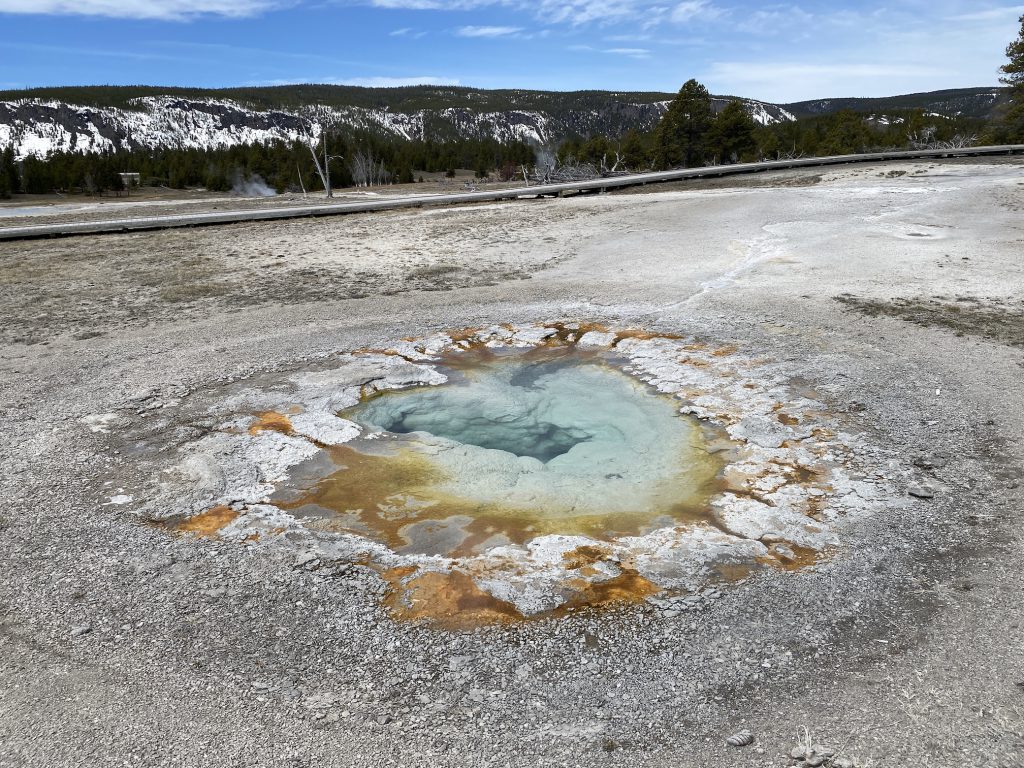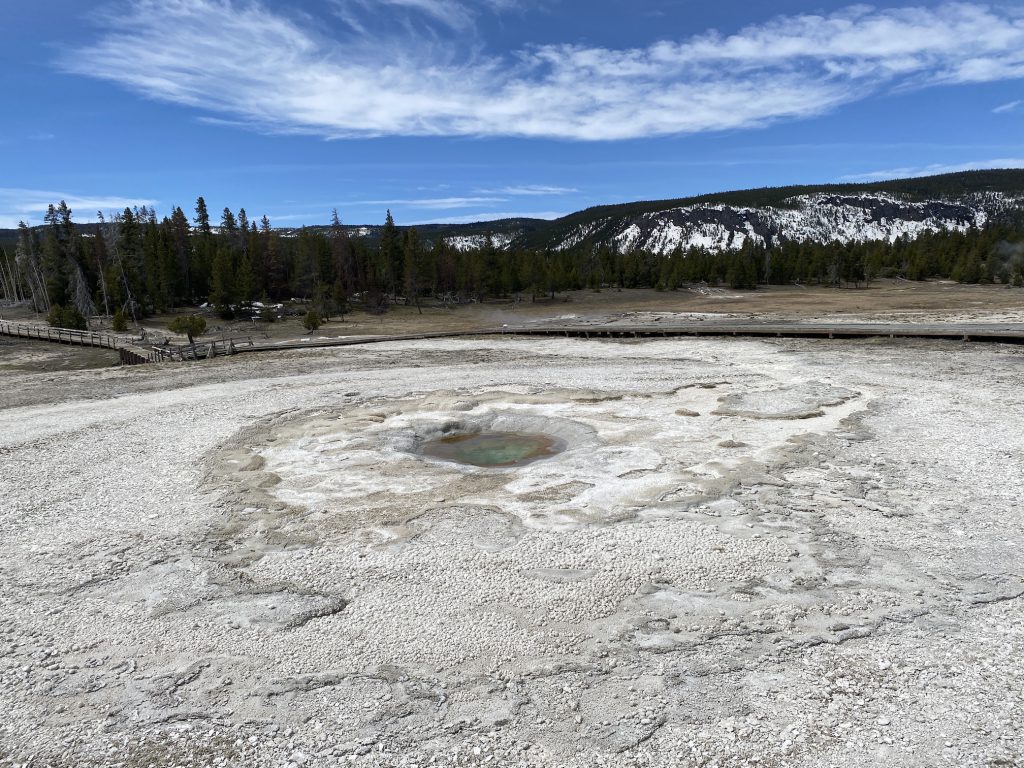 If it was just Oval heating up, I'd be concerned that it means Spasmodic is asserting even more control over the Sawmill Group. But Sawmill is also showing signs of recovery, so this may be good.
By then the Beehive eruption interval was getting pretty long, so we knew we needed to head over that way. Did a quick trip around Geyser Hill to find Aurum in between eruptions. Got back to Beehive and it wasn't long before the Indicator started. The wind cooperated, pushing the spray over Plume, allowing a nice close view of the water column.
Plume itself is interesting. The water level and the splashing seems higher than what I saw after the first Giantess eruption last year. The water level was visible most of the time, and some of the droplets were going as much as 1/2 meter above the rim.
Farther down, it appears Bronze Spring has changed from what I remember. It is now a large, cool pool, much larger than the old sinter rim, with heavy overflow down a couple of channels in the still green grass. I haven't paid much attention to it, so it could have been this way for a while, but the runoff channels seem new.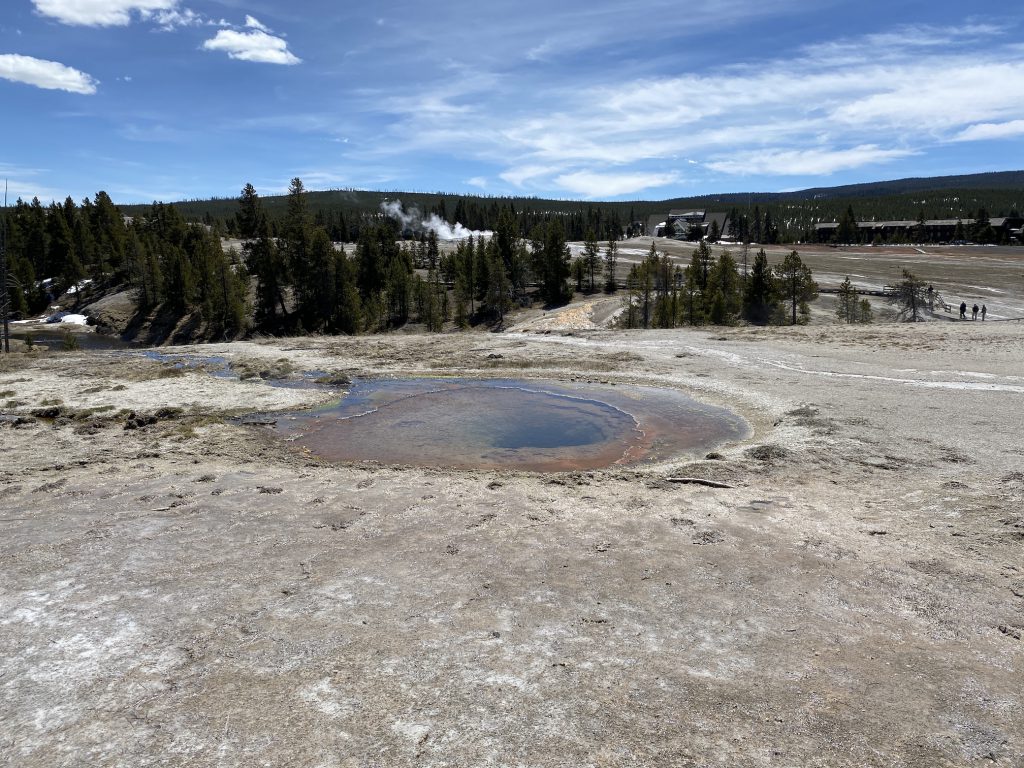 Later it was time for Castle. It turned out it ended up having an interval of over 14 hours. So I saw the start from Sawmill, which seems typical for me. And because of this, I walked up onto first West Triplet in eruption, and then Grand starting as I was taking notes on West Triplet. This One Burst Grand eruption was less than nine minutes long. West Triplet quit shortly after Grand, and other than Percolator, I didn't seen any activity in the sputs at the base of the hill.
Since it was a nice day, it seemed like a good idea to check out Fan & Mortar again. First we saw an nondescript cycle lasting just under an hour. Near the end we saw a start from Riverside, and were about to leave when we noticed heavy steam from the Main Vent. Then there was splashing, so now had to stay.
Over the next hour and a half we saw Bottom Vent slowly put water down its runoff channel. But it never had an eruption, instead surging at the same time Lower Mortar surged. The splashing in Main Vent continued through a couple of long, River Vent pauses. That activity finally ended as the Fan Vents took over about an hour into the cycle. They started out slow, but with high, visible water levels. But they never looked too good. For good measure, the Frying Pan and the steamvent inside Mortars amphitheater were active too. Then the whole system just sort of died down.